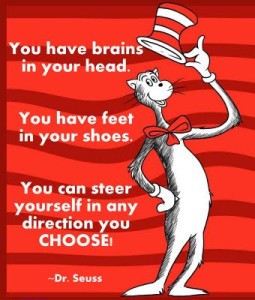 If you ever read "Cat in a Hat" or "Green Eggs and Ham", don't think this bad or even spam, please thank this host and share this post. For all choices which are eclectic must also be favorably ethic.
Many of you who are reading this article work in a very complex and possibly mentally demanding occupation. You might be responsible for millions of dollars of assets or may supervise countless associates.  In environments such as those, bad decisions and poor choices can spell doom to your company and more likely your personal success.  How many choices are we presented with or do we consider before making the final decision?  How many critical decisions do you have to make in a day, a month, or a year?  Where do we begin to learn the skills necessary for wise decision making?  You may be surprised!
Dr. Theodore Seuss Geisel was definitely a Solutionary to generations of children around the world. During his life (March 2, 1904 – September 24, 1991) he sold over 600 million books written in over 20 languages. It doesn't matter which of his books you read they all teach one basic principle; how to choose the right thing from a list of choices.  He was a Master at teaching our children how to begin to make the right choices in their lives.  He dedicated his life to teaching these important lessons using very memorable characters and his trademark style of rhyming.  Dr. Ted, as he was known by his friends, understood that children, from a very early age, should be presented with only good choices to select from.  These choices, regardless of the one selected, would meet the satisfaction of their guardian.  As the child matures, this selection process of possible choice options should evolve into a joint exercise between the child and parent resulting in once more only good and acceptable choices available for the final decision.   Eventually, the entire choice / decision making process becomes a solely owned process as they become adults; hopefully after they have been taught, trained and mentored through the three sources of wise decision making; Education, Experience, and Discernment of values and morals.
Just like Dr. Ted assumed the responsibility of educating children all around the world in this important life skill; we too have that responsibility to our children as well as those we are responsible for. In other words, we should be good role models and mentors.  As parents or mentors, we should reinforce the importance of making good selections from a list of quality choices. It would be inappropriate if we allow the child to not only make the selection but also dictate the list of choices since they are not capable to envision the future consequences of the choices they might desire today.  With our ultra-busy lives it is easy for parents to rationalize why they might relinquish this critical choice process yet their children could suffer because of the parent's personal lack of discipline.  All for just a few more minutes of peaceful solitude obtained by the act of giving in to the misguided whims of a child.
Fast forward to when that child becomes a parent or one of your associates, they in turn will have limited or no restraint against selecting poor choices which will eventually be chosen as poor decision because of the short cuts taken in their personal development of the understanding of the selection process. The methods they will use for listing their choices will probably be greatly flawed by the lack of personal discipline caused by less than stellar education in the process, limited success through mentorship, and poor training in the application of morals, values, and beliefs.  They will not likely have been trained to discern that the poor outcomes of their decisions are in direct correlation to the choices they used prior to making an important decision.  These people are destined to become an ethical nightmare to someone.
Our personal growth in wise decision making starts as a child being given a preselected, limited list of choices then escalates as we evolve into an adult able to provide our own list of quality choices from which we select one as the best solution to the problems we face.
Thank you Dr. Seuss for helping so many of us learn the important steps of good decision making.