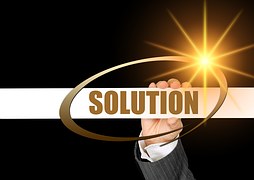 When you leader others, you want them; no you need them to have faith in your thoughts, words, and deeds. If they do not have that faith, they will falter when things get tough, or worst, they will seek out another leader whom they perceive will better fit their needs. For the leaders of companies, organizations, or even families this lack of retention can be a very big problem.
As with any problem, The Wisdom of Three offers an easily understood solution of what it takes to have the kind of faith one needs.  Faith requires only three things to exist but all three must be clearly present.  First the leader must demonstrate strong integrity so as to be believed by the followers; even when clear proof may not exist.  The leader must show loyalty by taking on the same risk as that of the followers creating an unshakeable trust.  Finally, a leader must be completely honest and capable in their own abilities so as to project total confidence of future outcomes to those willing to put their faith in this individual.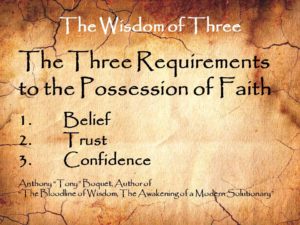 In a minute you will watch a video that demonstrates true faith and the power of the Wisdom of Three.  You will observe how people can believe yet not have faith.  There will be evidence of confidence yet no trust will be present so faith will not exist. However, when someone possess all three pieces of the puzzle their faith will be undeniable.
Enjoy!
Anthony "Tony" Boquet, the author of "The Bloodline of Wisdom, The Awakening of a Modern Solutionary"
If this is my last post, I want all to know there was only one purpose for all that I have written; to have made a positive difference in the lives of others.