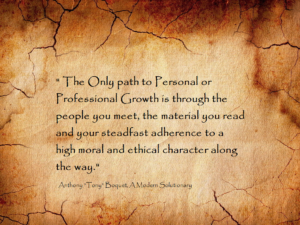 A good friend and I reminisced yesterday about a gentleman that changed our lives through one of his most powerful beliefs. As I now try to positively impact the lives of others, Charlie "Tremendous" Jones' inspired character caused me to adapt that saying to include a third component; high moral and ethical character, to the statement.
I am positive he will give me a big hug when we meet again in Heaven. "What can I say Charlie, I love the Wisdom of Three!"
If this is my last post, I want all to know there was only one purpose for all that I have written; to have made a positive difference in the lives of others.