After many years of research and countless interviews on the topic of wise decision making, this picture sums up my findings nicely.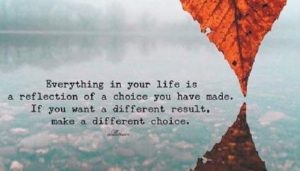 In the study of the lives of people who openly admit that they had tremendous struggles in their life and through deep personal reflection, we can usually pinpoint the single initial choice that started much of the discord.  The pivotal questions that I routinely ask are,
"What other choices did you consider at that moment in time?"
"Did you consider at the time, that one of the other choices would have been the right or even a better choice?"
Amazingly, they always admit knowing what the right choice was at that time; they acknowledge choosing what they believed was likely the wrong choice which was based, almost solely, on the satisfaction of a selfish emotional desire not on doing what was right at the time. In most cases, this single selfish decision began a pattern of lifestyle choices that continued to plague future decisions.
If they could only rewind their life and make that crucial right choice, it is obvious that the future would have been much different for them and their Circle of Relations. In most of these situations, the consequences of their poor choices were so negative; I personally felt great sadness by my own inability to right their wrongs so I can only imagine the depth of the pain they were forced to endure.  I have come to understand that even when others who care about you suffer, only the key decision maker could have paid the price necessary for positive changes to take place.  The negative outcomes are usually extremely harsh after our foolish choices are made, especially when you realize that the suffering could have been avoided. But conversely, it also brings tremendous joy to watch the transformation toward success; paying the price needed, enjoying the sense of well-being when you or someone you love has the courage to embrace unselfish decisions and the learning of the principals of wisdom so that future decisions can be made in a much wiser manner.
To better illustrate the emphasis the power of change can have on your life and the dynamics of paying in advance for positive change verses paying in arrears when negative outcomes pile up in our lives; I relate the story of the man and the boulder.

A man inherited a beautiful home which sat on a rich piece of property.  This property had great potential and was situated high on a hill offering an awe-inspiring view of the surrounding country side.  There was only one thing that bothered the man; directly in front of the home sat a very large boulder which blocked the view from his front porch.
One afternoon while pondering the problem that sat directly in his vision, he heard a voice in his head. "Why does it bother you so much?"
The man spoke out loud, voicing the pent up frustration, "It is blocking my view of the beauty of the valley. I finally have everything that I desire and can sit all day enjoying the view provided me but for the presence of this unsightly boulder."
"You can change it, if you want to."
"But how, I am but one man who has grown weak through my years of good living and that rock must weigh a thousand times what I do.  Could you help me with this massive problem?
The voice whispered, "Get up in the morning and begin to push the on the stone. Even when you become tired, do not quit pushing until evening is upon you.  As night falls; retire, relax and enjoy the serenity of your home but as the sun rises so will you; returning to the rock each day until you receive the positive change that you desire.  The ability to fix your problem is within yourself."
With a plan laid out in his mind, the man went to bed and slept well until the morning light opened his eyes.  He jumped from the bed with a level of energy he had not felt in years.  Soon he had decided on the exact position of his attack and he began confronting the boulder.  He pushed and pushed but even as night came, he could not see any noticeable movement to the problem.  Exhausted but in a good way, he enjoyed a restful evening along with a good meal before slipping off to a peaceful sleep.
The morning found him with his back to the stone.  This was his routine for the entire month until one evening, after fighting the stone throughout a storm filled day; he stood on the porch once more frustrated and disappointed. Shaking his fist to the heavens he screams, "Why am I doing this?  For a month I have toiled without reward.  That boulder has not moved a fraction of an inch yet you assured me that I could fix this problem. What am I doing wrong?"
The voice softly said, "Why do you think you are doing anything wrong?  It has only been a month.  If you stop, will the problem miraculously change without your efforts?  Continue to work on the problem each day."
Content that he was on the right path, the man renewed his efforts with unfettered determination toward moving the stone.
Six months later, the man sat comfortably perched on top of the massive boulder, in a softer voice; one of reflection instead of conflict he whispers, "I am not sure if I have what it takes to move this rock.  Why did you convince me to try to move this stone, knowing that it was impossible?
In the voice of a friend he clearly heard, "I never once told you to move the boulder, I told you to push on the boulder and that is what you have been successfully doing."
Trying to understand the man quietly questions, "If you knew I could not move the stone, why direct me to push on it?  I have spent six months of effort and I am no better off."
"Are you sure that you are not better off?  Look at your body. Are you not noticeably stronger, leaner, and healthier?  Do you not feel better about the problem that you now sit upon?  Look out over the vista that has been there the entire time. Instead of cursing the problem that blocked your view six months ago, you now sit on top of it enjoying a clearer view with a much different perspective.  The truth and the stone did not change in any way, but you did change; body, mind and spirit.  You cannot fix the problems of your life until you first fix yourself."
Smiling, the man patted the boulder and laughed with the person he had become.
Don't be afraid to be a Solutionary to those you love; you are being called to help them help themselves while making a positive difference in their lives.
If this is my last post, I want all to know there was only one purpose for all that I have written; to have made a positive difference in the lives of others.
Anthony "Tony" Boquet, the author of "The Bloodline of Wisdom, The Awakening of a Modern Solutionary"