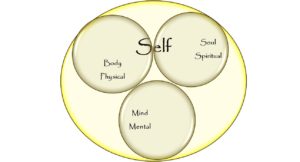 Without question, we live is a three dimensional world.  As a species these dimensions take on many common characteristics.  Consider our human person; it has a body, mind and soul.  Thus, we live our life addressing every aspect presented to us on a physical, mental and spiritual level.  Every approach to these aspects will be made personally, professionally and spiritually.  We have no say in this, we cannot discard or add to these personas and each of us must learn to accept, understand and thrive within the confines of these realities.  When we accomplish this task well we are said to be at peace, to have "balance" in our life and we are generally viewed as someone who has their life "all together".  
Many people strive for this nirvana their entire life and some are never able to reach this place of "all togetherness", mainly due to one obstacle; we never accept and embrace our entire being as one.  In essence, we go through life denying to ourselves who we really are in respect to one of more of our personas.  This denial causes us to live a lie and long term success can never be reached through falsehoods.  As my mom use to say, "The truth will always be revealed."
Our personas are not man-made; they are a byproduct of our humanity.  We cannot change these to suit our desires; they are part of the natural laws that we have to live with.  As with all natural laws, they are all true but not all people like the truth.  Some spend their life in a state of internal conflict fighting a battle that they cannot win.  During these skirmishes, three common strategies are used.
The most common is when we try to compartmentalize the three personas. It goes something like this; "When work, we work, when we play, we play and when we pray, we pray".  This is the one strategy that human resource departments thrive on because of some of our goofy business practices. General business culture tries to keep the three completely separate and very tidy.  I call it "trying to satisfy the three beasts".  This plan never works long term because one or more of the three gets shorted because we cannot be only one persona at a time.  It is like trying to be a revolving personality.
The second most common plan is for the person to try to intentionally restrict, down play or ignore one or more of their personas.  The persona of choice is routinely their spiritual nature.  We live in a culture that promotes disagreeing, discrediting and disavowing spirituality so denying this persona makes you one of the cool kids.  Just as it was when we were children; sometimes we view being cool as more important than being right.
The last arrangement is where we spend all of our time focusing on only one persona.  This is the technique we use in the attempt to "get ahead" in business.  We rationalize that we will spend all of our time, talents and treasures on our professional nature which will make us successful, then, once my business is up and running, I will have more time for family and God.  Good luck with that one.
The truth is that we cannot successfully separate and then balance the three personas; our nature does not work well in this fragmented way.  The winning formula looks like this.  When I am spending time with my family and friends; I am also benefiting my work life by relaxing and the activities that I am doing should also be pleasing to my God.  When I am working I do so to benefit my family and my God.  When I am being spiritual it is so that I can be a better husband, father, brother, friend, worker, supervisor or CEO.  Victory can only be obtained by our ability to combine the three into a single cohesive unit; one well-rounded successful trinity of a person.
If this is my last post, I want all to know there was only one purpose for all that I have written; to have made a positive difference in the lives of others.
Anthony "Tony" Boquet, the author of "The Bloodline of Wisdom, The Awakening of a Modern Solutionary" and Vice President, Education and Development at The American College of Financial Services