History is so important to the human race because it provides us with the experience component of wisdom.  It is wisdom that solves our troubles and without history we have no chance of overcoming our future dilemmas before they cause harm. It is through the lessons of history that we come to understand; how the eternal laws can solve these quandaries, create tools that leverage the power of the laws and master the application of the laws through the tools that we create so as to benefit all mankind.
For instance, the first clamps are said to have been developed by the Egyptian around 600 BC.  They were made by wedging two boards between large rocks.  The wedging force tightly pressed the two boards together so the glue could set, binding the boards as one.  This created stronger boards and for ship building, made a leak proof seal between boards.
Much has changed since 600 BC but the uses of modern clamps still solve the exact same problems they were originally intended to solve using the same laws of nature.  The Egyptians understood the Law of the Lever; force leveraged by a fulcrum will increase power, creating extra strength.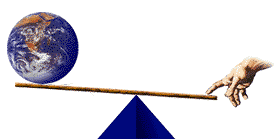 Continue reading "Clamping down on Leadership"