Unless you live as a hermit, you have heard about what is viewed as the less than wise decisions, which were made by a gate manager and the cockpit crew of an United Airlines flight and possibly the airport police personnel called to a scene which resulted in a fare paying passenger being physically ejected from one of their airplanes due to an oversold situation.
This kind of event strictly exemplifies the importance of placing an equal value on making ethical decisions as well as legal ones.  United and every other airline are legally able to overbook their flights, select passengers who will forfeit their seat when none volunteer, and are contractually within their rights to have passengers evicted from their aircraft by force under certain situation when deemed necessary.  Everything that happened that day seems to have been legal but almost everyone agrees that it was not right.
It is in the theater of public's opinion that United is losing valuable goodwill and credibility solely because of the growing consensus that they mistreated one of their own customers.  This uproar is being voiced loudly in bad press in both the news and on social media.  It is being felt by the company through the sharp decline in United Airline stock and shortly in court when the passenger files suit against the airline.
All of this because the decision makers for the company thought that they were dealing with only one simple problem; they were trying to solve an oversold flight by four passengers and none of them were willing to give up their seats voluntarily.  The senior leadership of the company would soon learn that the main problems that day were something completely different.  The main problems were that the decision makers did not understand the "true" problem or the "true" consequences of their solutions.  The evidence of this can be found in the reported words of the final petition made to an airplane full of seated passengers.  Notice the vision of the problem.
"Let me have your attention please.  We are in an oversold situation and we need four people to give up their seats to allow stand-by United employees that need to be in Louisville on Monday for a flight.  Our flight cannot take off until the United crew has been seated.  For your seat, we are willing to offer each of the four passengers; $800, overnight accommodations and seats on the next available flight.  If no one voluntarily takes this offer, a computer will select four people to be taken off the flight."
If this is what the person said, this individual might not get it!
From the words shared above, the leadership clearly viewed the problem from a solely selfish perspective.  The manager, and by proxy the company, were only worried about the company and "the United employees that needed to get to Louisville". Sure, offers of compensation to the four inconvenienced passengers were made but because the earliest connection into Louisville was late into the next day, no one was interested in the offers. No one but the individuals who represented the company that day knows if they thought they were doing those four passengers a favor by making them the offer that they made.  Sometimes companies develop a corruptible culture that creates an elitist view of themselves in the eyes of their associates.  This culture quickly spreads into attitudes of self importance that breeds selfish decisions.  Outside of this offer, there seemed to be no thought or consideration to the other parties involved in the outcome of the solutions.  The poor decisions made that day, though legal, may have been selfishly unethical toward the other parties; the passengers and the buying public as a whole.
Every decision a company makes impacts three parties.
The Company, which encompasses their Circle of Relations; the leadership, associates, and their shareholders.
The Clients, which includes their Circle of Relations; the client, their family, and those whom they care about
The Public in general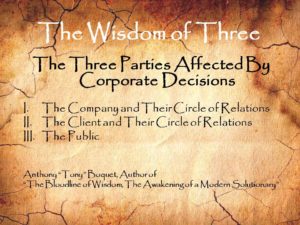 This incident should be a learning experience to all leaders and a wake-up call to companies that don't take the time to train their leaders on wise decision making skills.  It starts with understanding the psychological law that there are only three reasons that cause us to make poor decisions; Carelessness, Destructive Habits, or Lack of Moral Judgment.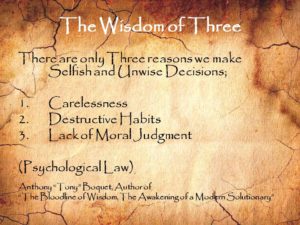 We cannot see any evidence of the lack of moral judgment on the part of the decision makers as being a factor in the decisions made that day.  An example would have been if the manager was intentionally trying to hurt someone. That was probably not the case here.
Remember, this manager was not doing anything illegal so it is highly likely that the manager may not have viewed their thoughts, words, or deeds as being out of line ethically.  They were just doing their job.  There lies a potential problem…the manager may have been trained, potentially unknowingly, to a culture that creates the destructive habit of operating in selfish manner by the company leadership.  I am not in a position to make that call as an outsider but it would be something I would investigate were I in a leadership role at that company.  When decision makers do not readily explore the viable solutions directed toward their clients before opting for strictly selfish ones it sends up red flags as to the environment they operate in.  This would be a trained reaction.
The third and most likely reason that these poor decisions were made, points to clear evidence of carelessness in the form of not thinking through the consequences to all three parties of the decisions.  This is not always the case but careless decision making is normally a byproduct of inexperience or lack of education in the job.  It is not usually malicious in nature.  The sad truth is when companies shed experience for a more youthful workforce, these sorts of problems run rampant until experience can be developed. With just a little careful analysis the decision maker could have selected much less damaging choices for consideration as the final solution.
They could have explained to the passengers that by contract of the tickets they purchased, each of the four passengers were eligible by law to receive up to $1350 per person for being "bumped" as a fare paying passenger. They could have sweetened the deal by offering accommodations at a local hotel or paying for a limousine to drive the four people to Louisville.
Even the most frequent traveler may not be aware of this clause in the ticketing contract.  We make contracts every day without reading the fine print.  Airlines routinely get ticketed passengers to freely relinquish their seats voluntarily for as little as $300 so they are not wild about this information being widely publicized.  Thanks to United, that is changing pretty fast!
The airline could have rented a van and within 5 hours, shuttled the four United employees from Chicago to Louisville without any inconvenience to their paying customers.
If available, this would have been the best, cheapest, and right solution for all involved.  The passengers would have not even known there was an issue.
In the words of one of my dear mentors and friends, Mr. Zig Ziglar, "You can have everything in life that you want, if you just help enough people get what they want."
Finally, to all the corporate leaders reading this, I hope you all adhere to the simple words of King Solomon as they are written in "The Bloodline of Wisdom, The Awakening of a Modern Solutionary":
"When we do not use the gifts of all three elements of wisdom; Education, Experience, and Ethical / Moral values; we are prone to consider self-centered views and self-serving ideas leading to selfish acts, choices and decisions, which in turn lead to additional poor acts, choices and decisions. It becomes a self-fulfilling prophesy of negative circumstances."
I think we will all agree, United Airlines will be going through their fill of negative circumstances for much longer than they would like because of these avoidable incidents.
 If this is my last post, I want all to know there was only one purpose for all that I have written; to have made a positive difference in the lives of others.
Anthony "Tony" Boquet, the author of "The Bloodline of Wisdom, The Awakening of a Modern Solutionary", your source for additional information about the Power of the Wisdom of Three.